ROGERS PARK – Jeremy Burgos, the seventh grader of Gale Elementary, has never played on a soccer team or any other sports team.
Gale doesn't do sports, but Jeremy plays soccer with his friends and classmates after school. One day Jeremy and his colleagues told Mimi Kelso-Grant, a teacher and post-school observer, how much they wanted to join a team.
"I've never been on a sports team," said Jeremy while playing soccer with friends at Willye B. White Park in Rogers Park. "I wanted to be on a team and see how it felt."
Now, Kelso-Grant has joined a North Side football league to help make the children's dreams come true – but she needs public help.
Most children who try to join a soccer team are members of CommUnity Makery, a nonprofit after-school program that provides academic and social experiences to children in the area north of Howard. The program has partnered with the Northside Chicago American Youth Soccer Organization to raise funds to have at least 14 Rogers Park kids on soccer teams this summer.
The football organization has agreed to donate "scholarships" for the children to cover the cost of their registration and uniforms.
As many of the children come from disadvantaged backgrounds, more help is needed to enable them to participate. Kelso-Grant created a GoFundMe to pay for transportation for the kids, equipment like soccer shoes and gym bags, pre-game meals, and even an insurance fund in case kids are injured.
Click here to donate to the fundraiser.
"The kids go outside and play soccer every day, but they don't have a team or a coach," said Kelso-Grant, a teacher at Gale Elementary. "There are barriers, objects and materials that children still need to play. I thought, "Well what could I do to help?"
Recognition: Joe Ward / Block Club ChicagoGale elementary school students want to join a soccer league this year.
During the time outdoors, Kelso-Grant noticed how much the children enjoyed doing sports. Then she learned how many barriers there are for local children to join teams.
For one, there is the cost of children's sports. Local families could face housing or food insecurity that prevents them from even thinking about things like exercise, Kelso-Grant said. There can also be transport and language barriers.
"The inequalities just build up and create an ugly wall around what other children take for granted," said Kelso-Grant.
Kelso-Grant turned to the football organization that covers the Far North Side and North Shore. The organization recently received grants from companies like Target and local businesses to step up its social justice efforts.
The local soccer chapter also received a fundraiser from RP Hooligans, a soccer fan group, to help connect with low-income families. Popular local company R Public House and Charmers Cafe helped provide scholarships to local children, said Natalie Allman Dumstorff, regional commissioner for the Northside Chicago American Youth Soccer Organization.
"Northside Chicago [American Youth Soccer Organization] serves a diverse community, "said Dumstorff. "We celebrate this diversity by trying to be as comprehensive as possible. We never want money to get in the way of kids playing football. "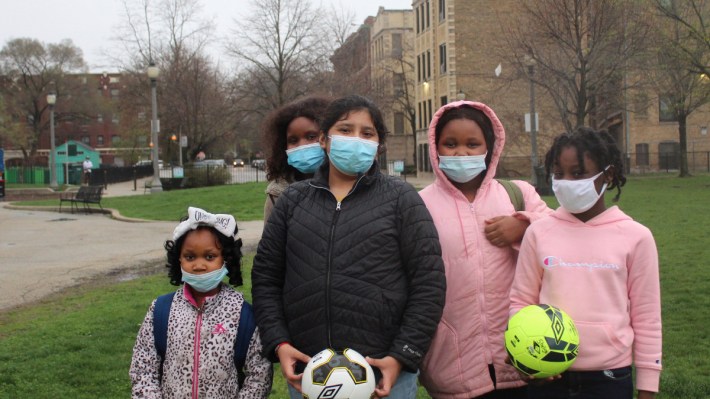 Recognition: Joe Ward / Block Club ChicagoA group of girls from Gale Elementary are hoping to play on their first soccer teams this spring.
Access to exercise can help children stay healthy and promote their academic and social development. And since the local soccer chapter spans much of the city and suburbs, Rogers Park kids can make friends with kids of all kinds.
"It's about access and opportunity," said Adam Welter, a seventh-grade teacher at Gale. "And only one chance to move. You can say they miss it. You want to play ball. "
It is equally important that children are given a power outlet after a year of distance learning and quarantine.
"Because I'm bored!" said Shelicya Richards, a seventh grader at Gale, when asked why she wanted to join a soccer team. The comment drew laughter from nearby adults.
"It will be good for her to get some exercise," said Shelicya's mother, Tekila Richards. "She'll enjoy it."
To learn more about the fundraiser, click here.
Subscribe to the Block Club Chicago. We make every penny from reports from the Chicago neighborhoods.
Subscribe already? Click here to support Block Club with a tax-deductible donation.